Welcome to the askMID website
It is illegal to drive or keep a vehicle without insurance
If you have had a Vehicle Insurance Advisory Notice affixed to your vehicle and would like more information please click
here
Please be advised, there will be scheduled downtime for askMID on 3rd December between 17:30 and 23:50. The service will be unavailable for some of this time, and we aim to keep this as minimal as possible. Thank you for your understanding.
If you own a vehicle that is not declared "off the road" (SORN) and it is registered in your name then it must be insured at all times. If you don't want to use the vehicle, then you must contact the DVLA to declare the vehicle "off road". There are penalties for not having a valid insurance policy, and if your policy does not appear on the Motor Insurance Database (MID) you can expect to receive a warning letter in the post, followed by a fixed penalty fine.
You will not be committing an offence if you have done one of the following:
Insured your vehicle.
You can check your vehicle is appearing on the MID here

Declared your vehicle "off the road" (SORN) with the DVLA.
You can check your vehicle record by using the Vehicle Enquiry service at www.direct.gov.uk/checksorn

This website provides expert advice and helpful motoring tips to help you keep your insurance costs down to make sure you stay insured and stay legal.
Like the DVLA will, you can check your vehicle has a valid insurance policy on the MID. It's free. Simply enter your vehicle registration number on askMID.com.
If you suspect that you have been involved in an induced or staged accident, you should contact your insurer. Anyone who has information on insurance fraud is requested to contact the Cheatline.
Any company offering motor insurance in the UK must be a member of the Motor Insurers' Bureau and contribute to the levy as well as supply data to the Motor Insurance Database. Information about MIB membership is available here.
---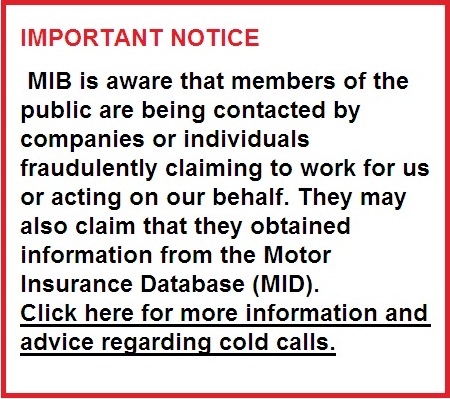 ---

Search the MID
Accident? Need to check the other vehicle is insured?
Don't miss! More information
Find a Broker